In the previous post, How to Use Hashtags to Grow Your Business, we laid out some tips on how to leverage hashtags for greater levels of post engagement and greater traffic to your social pages and website. If you are a beginning social media manager, and/or working to build up a newly established brand, do not be discouraged if your posts do not go viral right away.
The first 6 months are the hardest in terms of effort versus growth. The same post made by your account might get 10 likes, but it could easily get 100 likes if made by an account with 1k followers. We would not blame you for asking yourself "If my best effort only equates to X number of likes, why bother?" Instead, we would remind you that everyone starts at zero.
How do we know all of this? Because we have been there. In its hometown of Norwalk, CT, The Eva Site has an established and solid foundation that developed largely by word of mouth, from reviews exchanged in person, not on Facebook or Twitter. Now that we are based in Portland, OR, apart from our longtime clients, we are faced with the challenge of sharing our story and capabilities all on our own.
Post content that your community cares about
Here's where social media comes in. Nothing about our new community is traditional, and that goes for marketing strategy, too. They do not want advertisements that use fluorescent pink, bold print, and BIG discounts left on their windshields. Rather, they want high-quality content, aligned with their interests, left where they have opted in to receive such communications.
This is called content marketing, and social media is one of its primary vehicles. Our content is hosted on The Eva Site website, but we use social media to promote and track  it.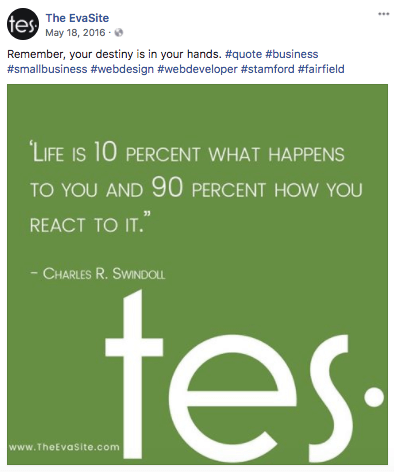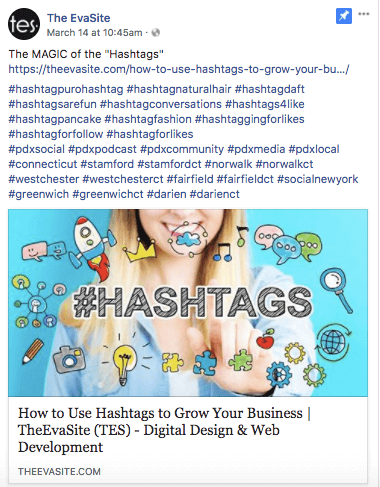 Let's also note that your work needs to be good to grow. It does not have to be your best work from the start, but it needs to develop and engage with people. Leave your old posts up there, too; people love seeing progress and it will keep you humble. Showing commitment and consistency in your online presence is worthwhile in itself.
Speaking of consistency, one thing that we have prided ourselves on from the beginning is how we use visual assets to maintain harmony across our social media accounts. The main aim of the visual asset game is to complement the information you're trying to present – be that a product, a service, a blog post, etc. – with an eye-catching image or graphic. Visual assets make your information easier to understand, reference, and digest.
Note: The biggest hitch is adjusting your assets to meet the size requirements of the particular site you are posting to. Here's your go-to social media image size chart.
Use visual assets to increase post engagement
Above, you will notice a shift from text-based assets to visual assets. Through analysis of our Facebook page, we noticed that posts with visual assets get a significantly higher engagement rate than text or link posts. At the same time, we noticed that Facebook was clearly creating the environment to encourage brands to switch to visual-based posts. In 2013, they even put some regulations as to how and to which extent overlay-text on photos and images can be used.
Since TES began offering social media support, our experimentation has focused on developing content strategies for our clients that keep up with the latest trends, which include visual assets, hashtags, and content showcasing real people and real moments, which create authentic connections with viewers.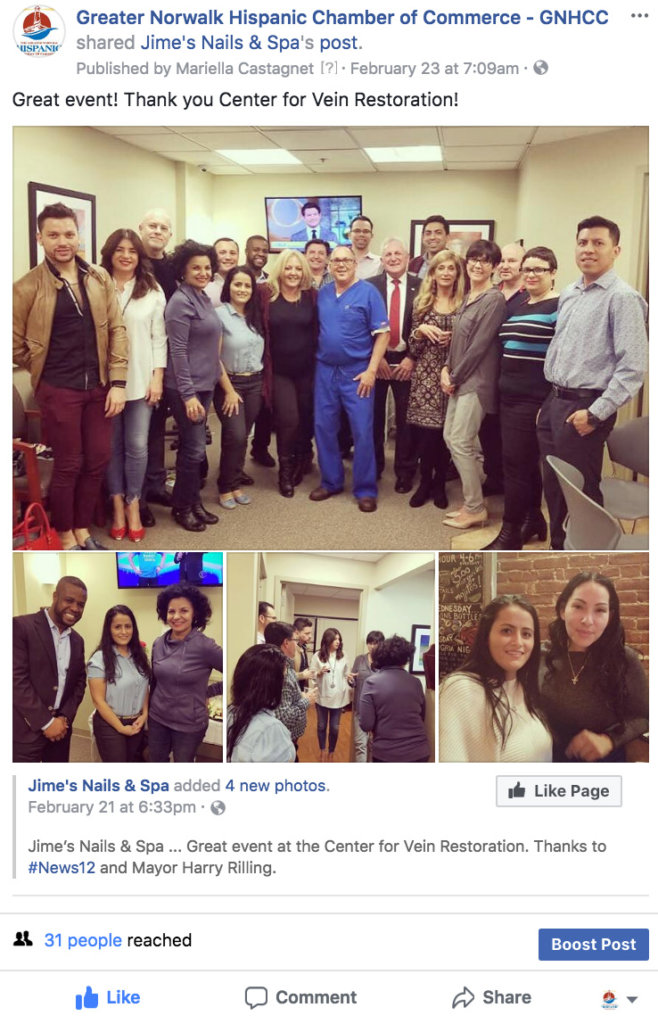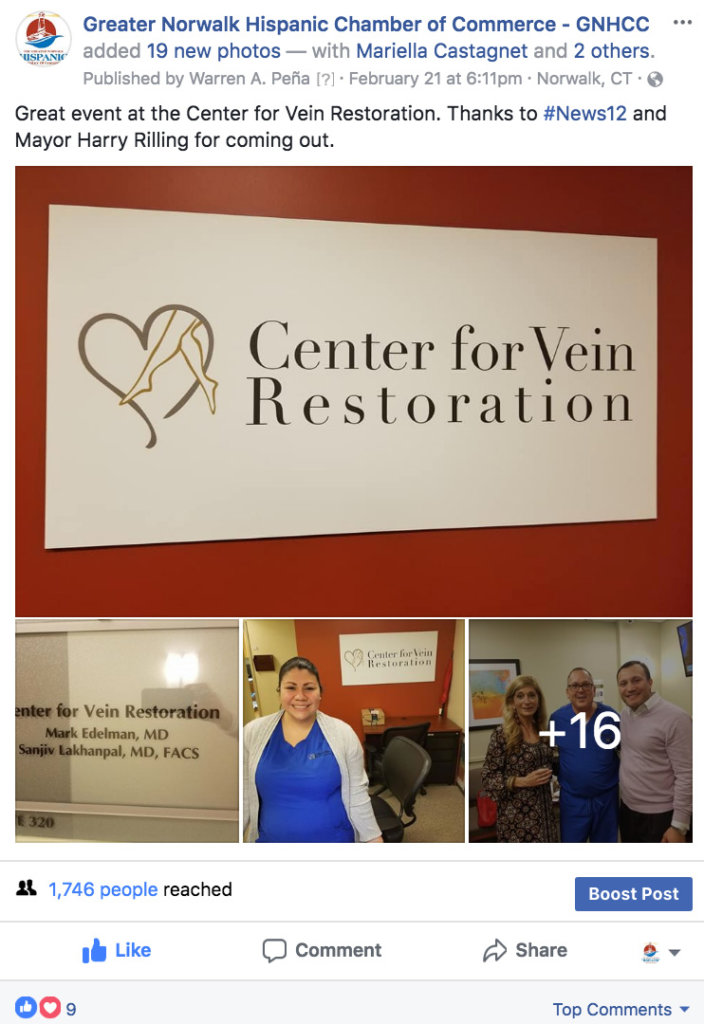 Greater Norwalk Hispanic Chamber of Commerce is a longtime client that we have had the pleasure to help increase its reach, both into the community and on social media. They recently received coverage by local station News 12, which we re-broadcast on their Facebook page, reaching 1,500+ additional viewers! Look closely at the posts above, and you will notice that the the first significantly outperformed the second. Because the only discrepancy between them is the use of #News12, we are taking this as proof of the power of hashtags.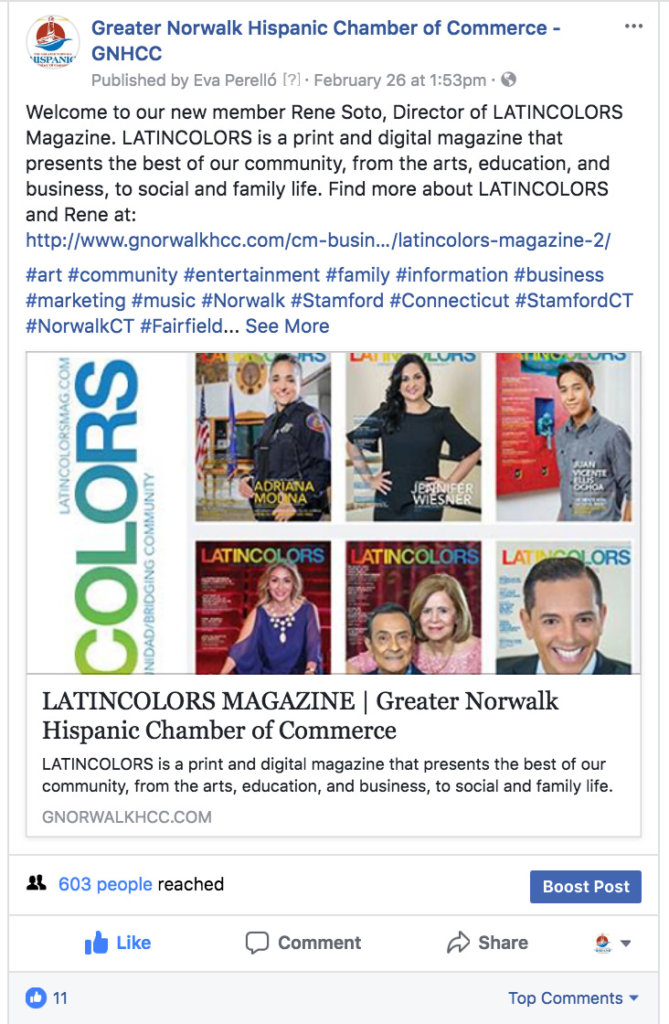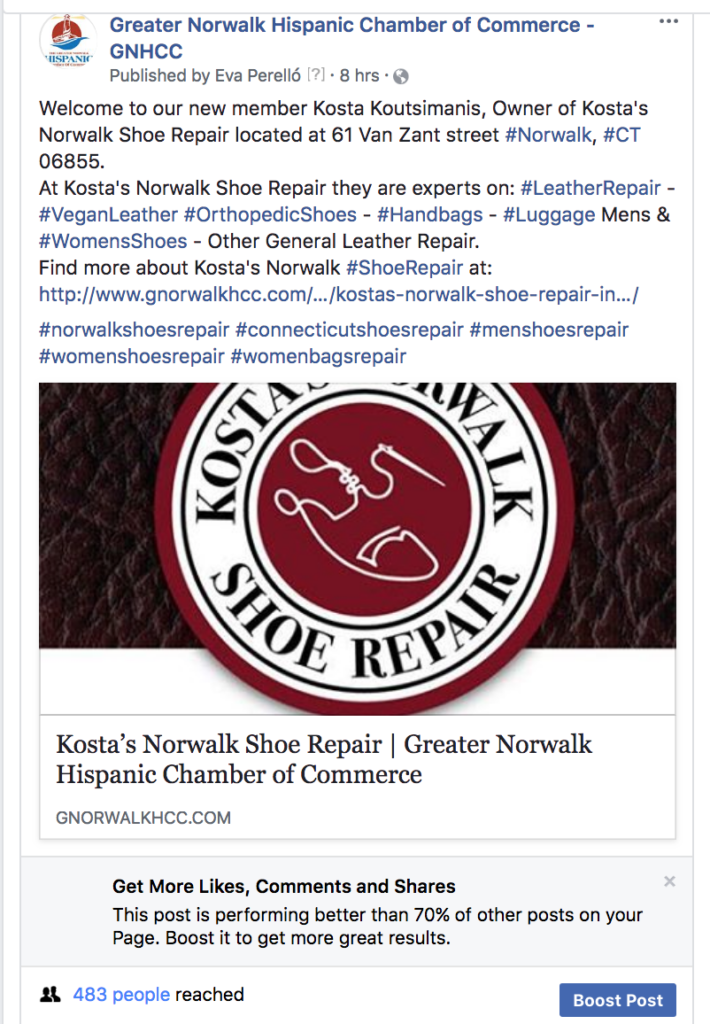 Needless to say, hashtags are our latest obsession. We have read countless articles by Social Media Marketing experts, such as A Simple System to Find the 30 Most Effective Hashtags, and worked through old-fashioned trial and error, to identify the most effective hashtags for each of our diverse roster of clients, who range from tech companies to tax preparers. To continue with the GNHCC example, we focus their social media content around a hyperlocal audience, tailoring keywords and hashtags to resound with those living nearby. For the most part, people love where they live, and are likely to search the name of their city, county, or state, to discover more about its history and culture. Our use of #Norwalk, #Fairfield, and # CT in the posts above, was based on this assumption.
Treat today's follower as tomorrow's customer
Our #1 priority in social media marketing is brand awareness, to get clients' accounts organically noticed by prospective customers. And then comes engagement. As mentioned above, the TES social media engagement strategy rests on content, content, content. Aside from The Eva Site account, a great case study for this is By The Book Taxes, another client subscribed to our Social Media Support service. When tax season arrived, we started aligning content to anxious taxpayers, with particular tax issues to solve, such as students, parents, and the elderly. Our goal was to show account followers how personal a service By The Book provides, and to genuinely answer their questions. Even if we did not secure their business this year, we secured their trust and confidence, which opens the door to next year.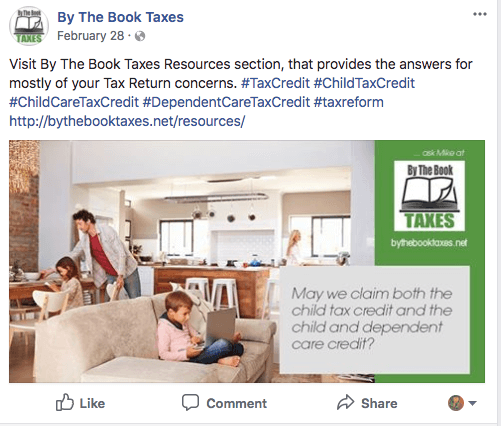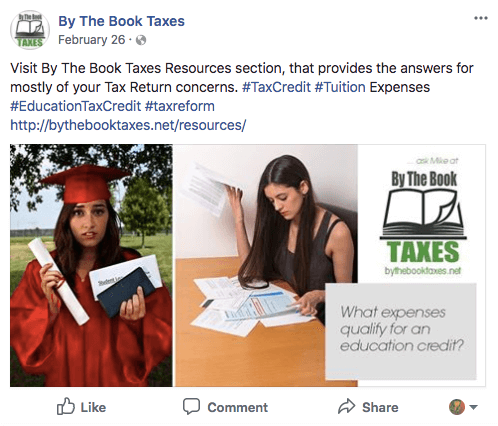 It is hard to believe that what we do today can have an impact a year from now, especially on social media, where the feeds are long and attention spans short; but consider the weight of a first impression. First impressions have a profound effect on our everyday lives. We use them to determine who we should approach and who we should avoid. They can be a deciding factor in our choice of a romantic partner, as well as our choice of a romantic restaurant.
While you can plan a first date, you can not plan someone's first impression of your business. Any social media post could be the one, and it is a scary thought – however, the fear is what will keep you accountable to maintaining the standards you held on the first date across the next stages of relationship. It is important to remember that social media is a relationship building platform, and that all relationships, personal or professional, develop from the cumulative effect of positive words and actions over time.
The Takeaway
So, yes, the first six months are the hardest, but once they have passed, your work is not done. Keep showing up for your followers at every stage of the relationship, from their first post like to their first visit to your website, and you just might see them transformed into loyal customers. And, while you are investing in them, we will be investing in you, uncovering best practices and sharing them here. We hope to continue this series of blog posts and would love to know what topics in social media marketing interest or puzzle you. Please email kayla.kennett@theevasite.com.
Written by Kay Kennett, TES Marketing Associate